By HomeFinder's Erin Tenhage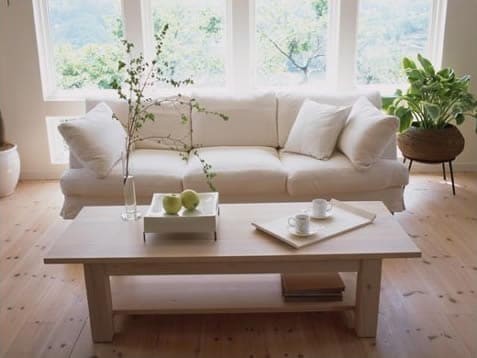 There is a piece of cliché wisdom which says that cookies sell homes. Right before a prospective buyer comes over, whipping up a batch of your mom's famous double chocolate chip cookies (or popping a package of Pillsbury in the oven) will make your home smell like heaven and seduce even the most churlish of homebuyers. While this tip has become cliché, there are a number of simple, inexpensive ways to do your own home staging and make your home stand out and look appealing to homebuyers.
1. Clean up after yourself. Start preparing your home for potential homebuyers by giving it a good, solid scrubbing. Do the big jobs, do the small jobs. Get out your longest duster and go hunting for cobwebs. Use a damp cloth to clean your baseboards. Polish your floors. Clean inside your cupboards. Remove all the fingerprints from your kitchen appliances. Clean your oven inside and out. If all this cleaning sounds like too much for you and your busy schedule, consider calling a service to give you a hand.
2. Get handy (or hire someone to be handy for you). Repairing or renovating problem areas in your home can make all the difference to a homebuyer. Paint, plaster, knock down walls, install new shower doors, whatever your home needs to feel welcoming and attractive to a homebuyer. Again, don't hesitate to hire help to take your castle from drab to fab.
3. De-clutter. This is a big one, and often overlooked. Whether a homebuyer is viewing your home in pictures online or in person, what they want to see is space. They want to know what they can do with a room, how they can make it their own. Clear up space on your counters, desks, tables, and window ledges. And make sure they can see the floor.
4. De-personalize. This is a tough one. This house has been your home, and will have your personal touches in every corner. This is wonderful and good, and makes for a positive living space. Unfortunately, homebuyers will have their own tastes and interests and may not find your personal style pleasing. To appeal to as wide a group as possible, try to keep things neutral. Put away your personal photos and religious decorations and artwork, choose neutral bed linens, and consider repainting bright walls a more neutral shade. This step helps your homebuyer to imagine the space as their own and gives them room to dream about how they would personalize it.
5. Make a move. Have some fun and experiment with moving around your furniture. Play with proportions. Sometimes large furniture can make a room look small, so try moving it to another room. In a large room, clustering furniture into cozy groups can make a room feel more spacious and inviting.
6. Clean again. Take the time to re-clean your home for each new homebuyer, particularly the kitchen and the bathroom. These rooms are heavily scrutinized by buyers and a daily primping session can keep them looking fresh and welcoming.
7. Air your clean laundry. You know that feeling that you get when you walk into a nice hotel room? The sheets are so crisp and fresh, perfectly tucked into the bed. The towels are clean and neatly folded on top of each other. Try to recreate this in your house staging. Add some lightly scented candles and some new bars of soap and homebuyers won't want to leave.
8. Take a step back. Now that the inside of your home looks fantastic, it's time for some more general property staging. Take a walk to see how your home appears to someone on the outside. Cut your grass, trim your bushes, water your flowers or plant new ones (yellow is always a positive and attractive colour), and pick up any litter that may be detracting from your beautiful exterior.
9. Let the light in. You've scrubbed and swept, polished and prepped, so open the curtains and turn on the lights to show it all off! Dimly lit rooms can come across as dingy and uncared for, so fill your home with warm, cheerful light. Make use of as much natural light as you can.
10. A fresh start. When you sell your home you are ending a chapter in your life and beginning a new one. The same is true of the homebuyer; your home is going to be the fresh start to a new chapter in their lives. Open the windows before they arrive so that the air is fresh and clean. Put fresh flowers on your tables to add life and colour. Encourage them through all of their senses to imagine and envision their life in that home. Then stand back and relax, as all of your hard work and thoughtfulness pays off.